Teeth Whitening in Orem, UT
While there are many ways to enhance a great first impression, one way that makes an instant and dramatic difference is your smile, which is one of the most important things people notice about you. Consequently, your teeth make an instant first impression of how well you take care of them. With today's dental advancements, there are many ways to gain a healthy and confident smile to make a great and continuous impression.
What is teeth whitening?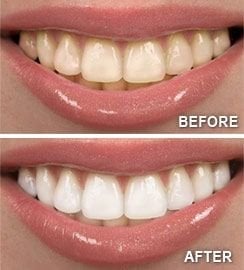 Teeth whitening is simple dental cosmetic procedure which helps remove stains from teeth and lighten discolorations. It is a fairly simple dental procedure which greatly enhances the look of your teeth. Whitening has become one of the most common cosmetic procedures because it can dramatically improve the look of your teeth in a short time frame and is a widely accepted practice, offered by most dentists.
Why is teeth whitening important?
Teeth that are white give off a younger look and a more confident overall impression. It is a subtle cosmetic detail that can make dramatic difference in the way you feel about yourself and the way others perceive you.
Over time teeth can begin to yellow due to the natural aging process. Also, the foods that we eat can cause stains and discolorations. Intensely-colored foods and beverages are the greatest causes of discoloration. Others causes of discoloration include:
Drinking acidic beverages such as red or white wine and sports drinks
Drinking liquids such as coffee, cola and tea
Using tobacco
If you use these foods or beverages, use them in moderation and be sure to rinse out your mouth shortly after consuming. That way, you can keep teeth from significant discoloration.
However, we cannot always keep from eating things that cause stains. Whitening is a simple and time-effective way to restore teeth to bright white.
How does teeth whitening work?
There are various ways to whiten teeth. These include:
Bleaching
Bleaching the teeth helps change the natural tooth color, remove deep stains or to remove surface stains of the teeth. It is done through either light-activated whitening techniques in a dental office or whitening at home usually with a custom mouthpiece made by your dentist and combined with bleaching gels. The mouthpiece holds the bleaching gel or liquid against the teeth for several hours a day or overnight for two weeks to achieve the desired results.
Abrasion
Abrasion is another way to remove external stains from teeth. The dental hygienist uses abrasion when cleaning the teeth to remove stains and to polish the teeth with a professional cleaning. Teeth whitening toothpastes also use light abrasion and formulated agents in the toothpaste to polished the teeth to remove most external stains.
What should I expect when I see a dentist for teeth whitening?
Something to keep in mind is that once the satisfactory brightness of teeth is achieved, whitening may have to be repeated from time to time to maintain it. Scheduling professional cleanings to remove stains is also a great way to keep teeth looking bright.
Just like there are many procedures, there are also many results. Each person may respond differently. Your dentist or hygienist is the best person to help you decide if teeth whitening is right for you or if there are other procedures that will better achieve the desired results.
Want a brighter and whiter smile? Then call Rogers Family Dental in Orem, UT at (801) 225-7712 to book an appointment!