Crowns and Bridges in Orem, UT
A smile is one of the first things that other people notice about you and can make a strong, positive first impression if care and attention is given to it. Why? It is because your teeth are a major part of your smile and your overall health. Your teeth are an indication of how well you take care of yourself. However, if genetics have not given you the perfect teeth for your smile, don't worry. There are many options such as crowns and bridges that can help enhance your smile, strengthen your confidence and improve your overall health.

What is a crown?

A crown is a permanent prosthetic cap placed over the tooth in order to restore strength and appearance to a decayed or damaged tooth. Placing a cap over the damaged tooth creates a barrier to plaque build-up, prevents future decay and keeps the tooth secure and structurally sound.




What is a bridge?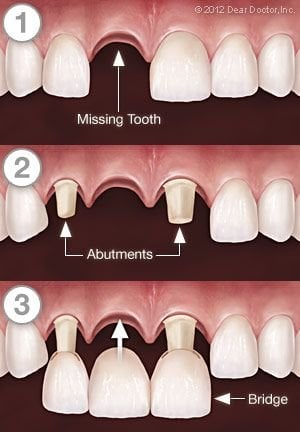 A bridge is also a permanent prosthetic device–meaning it cannot be detached like dentures, which are removed daily for cleaning. A bridge is a porcelain tooth or set of teeth which is permanently adhered onto the surrounding healthy teeth for stability. It is often used to

-Fill in spaces where a tooth never came in
-Fill in spaces of a missing or severely misaligned tooth
-Cover a severely discolored tooth
-Improve a misshaped tooth
-Restore teeth which have undergone trauma
Why are crowns/bridges important?

Teeth are an important part of daily life and, if affected, can dramatically decrease or increase one's quality of life. Crowns and bridges can improve the look and function of the teeth in many ways as well as strengthen damaged teeth to promote good overall health.
Also, spaces left from missing teeth can result in the remaining teeth shifting and misaligning. This can result in a poor bite, stress on the jaw joints and difficulty in digestion. Bridges and crowns help correct these difficulties caused by genetics, accidents and the wear and tear of normal daily life.
Furthermore, crowns and bridges can improve not only a tooth's appearance by matching to the color of your natural teeth, but also matching its shape and alignment with other teeth.
How does a crown or bridge work?
A crown is fitted by a dentist to fully cover or "caps" a tooth. The most common materials for a crown are a porcelain outer shell bonded to a metal cap which fit over the affected tooth. This is common because it is both strong and attractive. When placed on implants, a crown resembles a real tooth both in shape and structure for full function.
For a bridge, a dentist and lab will structure an original porcelain tooth specifically measured for the space between the teeth. Then the bridge or porcelain tooth is cemented and secured to the surrounding teeth for stability and matched to the same alignment and color as the surrounding teeth.
Crowns and bridges can be made from other materials as well which include gold, metal, acrylic and ceramic. These latter materials are usually suggested for back teeth because they are stronger than porcelain.
There are a variety of ways to improve the overall look and function of your teeth. For questions to see how a crown or bridge can enhance your smile and teeth, call the professional dental office of Rogers Family Dental for a consultation
Caring for Your Crowns & Bridgework
Crowns and bridgework require the same conscientious care as your natural teeth. Be sure to brush and floss between all of your teeth — restored and natural — every day to reduce the buildup of dental plaque. When you have crowns, it is even more important to maintain your regular schedule of cleanings at the dental office. Avoid using your teeth as tools (to open packages, for example). If you have a grinding habit, wearing a nightguard would be a good idea to protect your teeth and your investment.
Do you need Crowns & Bridges or want to learn more? Then call our Orem, UT office at (801) 225-7712 today!